☆ the layout archive!! ☆

see how much wappydog has changed over the months...!!
each layout has its own little codename, isnt that cool!!

☆ wappydog v1.1 (eight) ☆
the first public layout for wappydog, created on march 16th 2023
this was made while i was messing around with cloverparty's 1999 neocities layout. how i edited it made it look very ugly and weird, you can really see it in the sidebar.
the reason why this one is dubbed v1.1 is because there was a layout before this one with a slightly different sidebar (the link table had that gradient background and darker color text), however theres no pictures of it :[
you can take a proper look here!!
---
☆ wappydog v2.0 (mame) ☆
a neat and tidy theme, created on may 29th 2023
from that day onwards, wappydog was no longer an eyesore!!
everything was changed entirely. like. EVERYTHING. the sidebar was redone, i found out what position:absolute; did, everything just looked so nice...
sorry, no live preview. :[
---
☆ wappydog v2.1 (shiba) ☆
puppies invaded the site!! created on june 11th 2023
not much of a change to the site other than new links were added and well. the nintendogs theme LOL
the music player was removed as it broke other links and was replaced by an iframe that allows audio to play automatically!! i wouldve kept aibo for longer but sadly they didnt support the ideas i had for the site ;___;
you can take a proper look here!!
---
☆ wappydog v3.0 (chichi) ☆
welcome to the dog park!! created on june 29th 2023
wappydog was completely redone, this time with a different base from cloverparty!!
i moved off from the common sidebar layout and moved onto the header-style layout. the site doesnt look as clunky anymore!! i also figured out iframes so no more val having to update every fucking sidebar on every fucking page LMAO
v3.1 was basically the same except it was pink so im not gonna show it here lol
you can take a proper look here!!
---
☆ wappydog v4.0 (candy) ☆
welcome to the starlands... created on august 9th 2023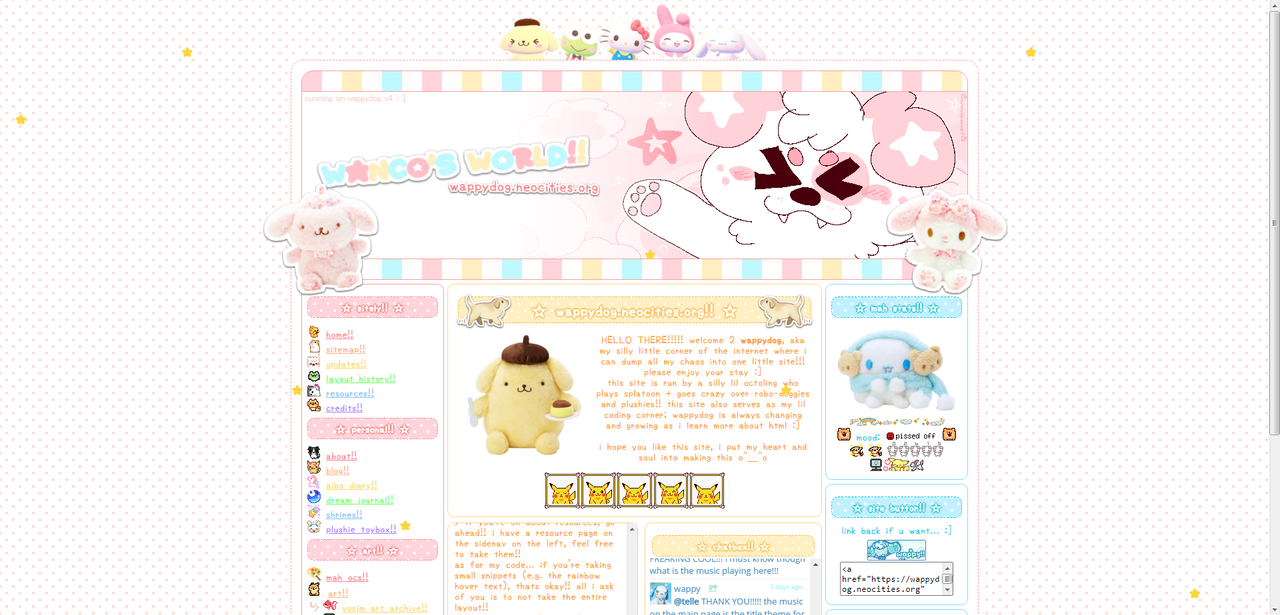 i love how cute this layout turned out!!! plushies were planted everywhere to represent my love for them!!
sadly, candy didnt last very long... as much as i loved her, she didnt quite represent wappydog very well...
you can take a proper look here!!